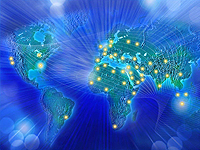 Don't let physical distance prevent you from experiencing the incredible healing and balance that can be yours with Cranial/Structural Energetics Cranial Core Distortion release. Receive treatment virtually anywhere in the world with our Distance Healing technique. Start healing all painful and limiting muscular and skeletal problems today! Just choose from the following Distance Healing options, and we will contact you to schedule your Distance Healing session.
Your first choice will be $89.99. If you desire additional options with your session, each one added to your cart will cost only $49.99.
Cranial/Structural Energetics for Infants with Special Problems
Cranial/Structural Special Needs Children
Cranial/Structural Energetics for Unlocking Your Child's Potential
Cranial/Structural Energetics for Emotional Problems
Core Distortion Release for Muscular/Skeletal Pain & Dysfunction
Cranial/structural Energetics for Illnesses & Diseases
Light Meditation Audio CD
Expand your consciousness and begin the healing process with our Light Meditation Audio CD.
Light Meditation (9:44)
Light Meditation to Increase Intuition (6:28)
Light Meditation to Balance Chakras (9:20)
Single Disc – $12.99 + $4.99 Shipping & Handling